---
---
PULVERIZADOR 12V 60L
60 LITRE WEEDPAKS
Key features of the WeedPak 12 volt range of sprayers include:
• UV stabilised polytuff tank
• Reliable Selecta 12 volt non-hazardous chemical pump
• 5.3 L/min open flow (414 kPa/60 psi)
• Viton valves, Santophreme diaphragms on 5.3 L/min pump
• Suitable for applying most types of agricultural chemicals
• Lock-on trigger for easy continuous spraying
• 3 metre wiring loom with inline fuse and alligator clips
• 5 metre delivery hose
• Spotjet spray gun with 500mm stainless steel lance with adjustable nozzle and 6 m x 8mm hose
• 1pc/ctn, 8.6/6.7kgs, 89x47x38cm
Nombre del producto:

PULVERIZADOR 12V 60L

Código de producto:

E-A002

产品型号:

YSPRA-60A

参数:

WEEDPAKS DE 60 LITROS

Los rociadores deslizantes, localizados y para vehículos todo terreno se utilizan para aplicar insecticidas y herbicidas en céspedes, hileras de cercas y zanjas. Estos pulverizadores dispersan los productos químicos rápidamente.

Los pulverizadores para cuatriciclos y Rakpak están diseñados para adaptarse perfectamente a los cuatriciclos y cumplir con los estrictos requisitos de peso de estos vehículos. El diseño envolvente permite un centro de gravedad más bajo, esencial para mejorar la seguridad de los quads.

60 LITRE WEEDPAKS
Key features of the WeedPak 12 volt range of sprayers include:
• UV stabilised polytuff tank
• Reliable Selecta 12 volt non-hazardous chemical pump
• 5.3 L/min open flow (414 kPa/60 psi)
• Viton valves, Santophreme diaphragms on 5.3 L/min pump
• Suitable for applying most types of agricultural chemicals
• Lock-on trigger for easy continuous spraying
• 3 metre wiring loom with inline fuse and alligator clips
• 5 metre delivery hose
• Spotjet spray gun with 500mm stainless steel lance with adjustable nozzle and 6 m x 8mm hose
• 1pc/ctn, 8.6/6.7kgs, 89x47x38cm
WEEDPAKS DE 60 LITROS
Los rociadores deslizantes, localizados y para vehículos todo terreno se utilizan para aplicar insecticidas y herbicidas en céspedes, hileras de cercas y zanjas. Estos pulverizadores dispersan los productos químicos rápidamente.
Los pulverizadores para cuatriciclos y Rakpak están diseñados para adaptarse perfectamente a los cuatriciclos y cumplir con los estrictos requisitos de peso de estos vehículos. El diseño envolvente permite un centro de gravedad más bajo, esencial para mejorar la seguridad de los quads.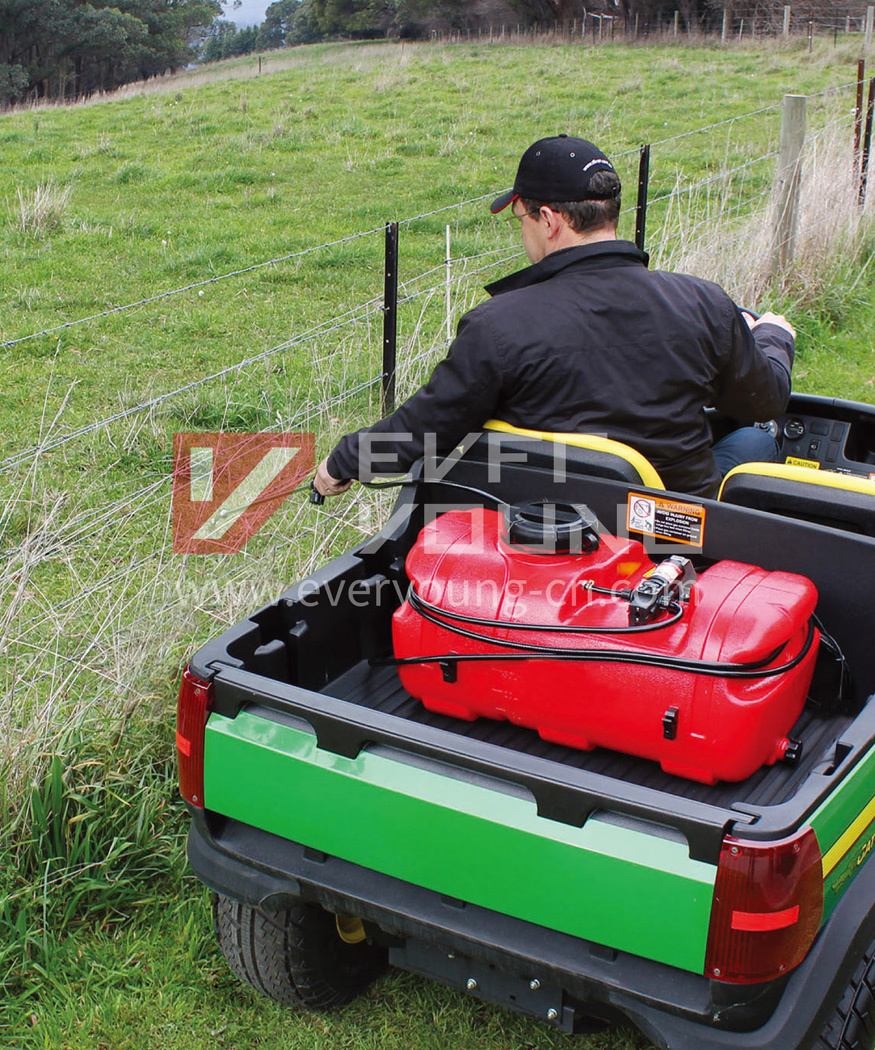 Obtenga la información y recomendaciones más detalladas de nuestros expertos en 24 horas.
★★★★★
Our vision is to offer the broadest range of Superior quality product and excellent services to enhance your success.
We aim to be the best in innovations, quality services and efficient delivery.
We assure you that we are the most advanced fuel solution provider for you in China.
Let's make more successful products together!